Our Business
The field of life extends to infinity.
As a total provider of real estate solutions, the Liv Group is hugely experienced at enabling people to enjoy their future life to the full maximizing the assets they have worked so hard to accumulate.
From property development and sale to management, brokerage, renovation, asset management, and investment, we provide a full range of services tailored to each customer's unique needs and lifestyle, all backed by a commitment to generating fresh value to enhance customers' hard-earned assets.
Leveraging our pioneering thinking and professional perspective, we provide all the support needed to develop assets with real value and enjoy a secure and comfortable lifestyle.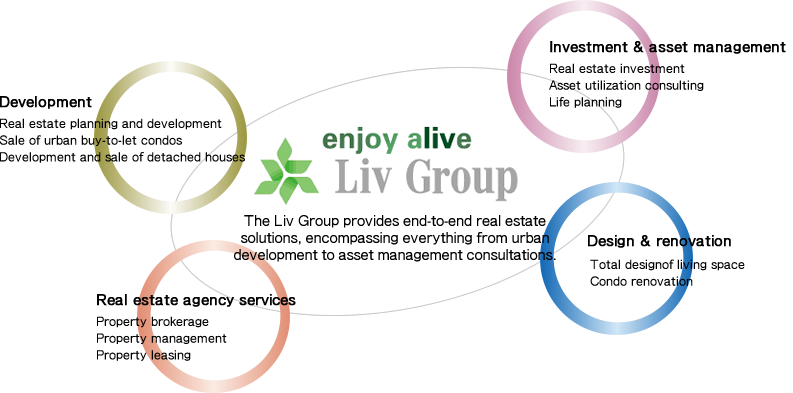 Development
The Liv Group engages in a wide range of real estate planning and development activities, including community development in urban and rural areas as well as sale of buy-to-let condos and detached houses.
From procuring land to providing follow-up for owners, service is end to end.
Underlying everything is a philosophy of creating attractive homes fit for a new age and providing properties that offer real value to the customer as financial assets.
-Real estate planning and development: Leveraging our experience as a developer, we plan and develop real estate offering high property value.
-Sale of buy-to-let condos: We deliver diverse support to ensure ongoing stable condo management.
-Development and sale of detached houses: We develop residential sites of all sizes, both urban and suburban.
Real Estate Agency Services
Providing management services once properties have been developed and sold, brokering property sales, and providing all kinds of leasing-related agency services are all part of our job.
As a total provider of real estate solutions, the Liv Group provides end-to-end support for each individual customer.
Catering holistically to customers' individual circumstances and the challenges they face, we provide fully integrated, meticulous support.
-Property brokerage: Our proprietary corporate network guarantees smooth delivery of brokerage services for real estate purchase, sale, and repurchase.
-Property management: We're here to assist with condo management, providing services including building maintenance, inspection, and non-life insurance.
-Property leasing: We also take on complicated lease management work, including providing information on properties, managing residents, and collecting rents and other fees.
Design& Renovation
Demand for urban and residential redevelopment work, including conversion of office buildings and hotels to condominiums, restoration of aged apartment buildings, and large-scale renovation projects, is set to grow.
Utilizing all our years of know-how and expertise, we help further enhance property value.
We deliver all manner of solutions and services to create appealing and comfortable living space for all tastes.
-Total designof living space: Professional design of everything from custom-built houses to high-quality space.
-Condominium regeneration: We are committed to enhancing property value through condominium renovation and other regeneration work.
Investment & Asset Management
At this time of low interest rates, investment in real estate is drawing growing interest. Our experts are on hand to advise on everything from purchase and management of high-yield condos and apartments for investment purposes to land use in order to guarantee a comfortable income in old age, ready for the advent of the super aged society.
We provide total support tailored to the customer's life plan, including advice on affordable financing and loans, and effective property use, management and maintenance.
-Real estate investment: Advice on developing valued assets extending from broad-ranging and detailed property information to loan consultations.
-Asset utilization consulting: Personalized advice on subjects ranging from inheritance and tax strategies to using land as efficiently as possible.
-Life planning: Life-planning support services, including advice on condo management, insurance, and asset management, to ensure security at each stage of life.